I was going to decorate my 4 1/2-foot seasonal tree for Valentine's Day. Then I thought maybe decorating it for Just Son's birthday next Wednesday would be the way to go. But then I changed my mind and decided to take out the blue and green ornaments. (Okay, confession: The ornaments were still on display throughout the house even though the white Christmas tree was boxed up in mid-January.)
Ladies and gentlemen...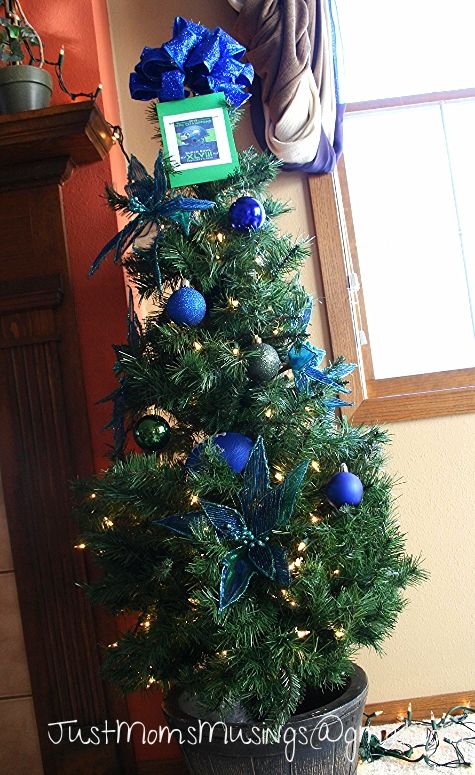 Just Family's Super Bowl tree (in progress).
Yeah, yeah, I know. Just Mom has really flipped this time. I don't live anywhere near Seattle anymore, and in fact live much closer to Denver. I should be cheering for the Broncos, or, at least, the commercials since the Vikings aren't playing. But the Seahawks?????
Yes, the Seahawks. I spent my college years in the state of Washington and loved the Seahawks then, just because. I then moved to Oregon, but lucky for me the state doesn't have a pro team. So ... I still loved the Seahawks. ;-) I moved here to the upper plains, still loved the Seahawks but "lost touch." I felt like a sports orphan. I tried -- really, really, really hard -- to like the Vikings. Or the Packers. I like them, but it was never the same. So when the Seahawks beat the 49ers a couple of weeks ago, and were on their way to the Super Bowl, yes my Pacific Northwest roots started showing.
Besides ....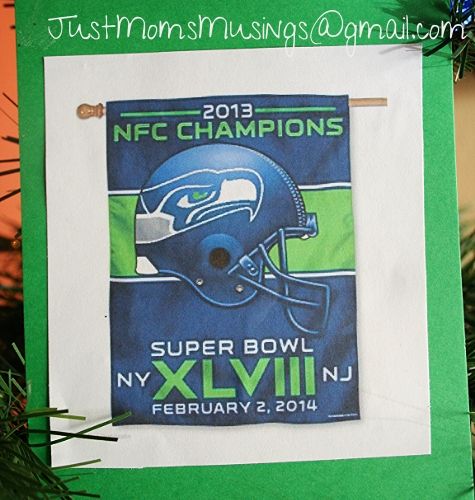 ... Seriously, folks, how often does a person get to say in their liftime, "THE SEAHAWKS ARE GOING TO THE SUPER BOWL!!!!!!!!!!!!!!!!!!!!!!!!!!!!!!!!!!!!!!!!!!!!!!!!!!"
The answer: You can count the number of times on one hand. Using two fingers.
So yeah, I'm a little excited. Will they win? Who knows?
THE SEAHAWKS ARE GOING TO THE SUPER BOWL!!!!!!!!!!!!!!!!!!!!!!!!!!!!!!!!!!!!!!!