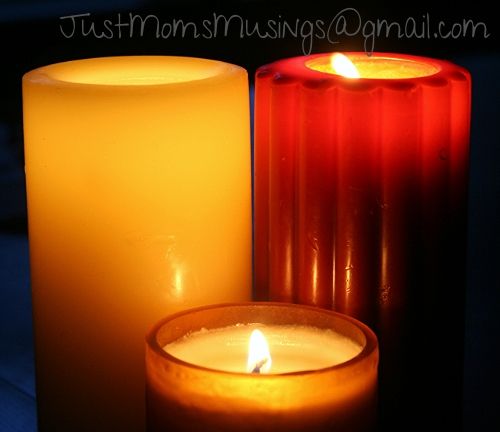 There was a massive power outage last night just as the sun was about to set. So Just Family did what many families probably did: light some candles, grab the flashlights and battery-operated lantern, and log on to Facebook using smartphones (there's comfort in numbers, I tell ya). And of course, if you're Just Son, you probably watched a movie on your iPad to bide the time.
The power wasn't out that long for us (maybe about an hour), but it sure made us appreciate the things we have and take for granted: central air conditioning, our freezer's ice maker, and yes, the comforting hum of a house full of electronic doohickeys that lull us to sleep every night. It also made us long for a gas-powered generator. I'M KIDDING. Kinda. Actually, what we did long to do was sit outside and look at the stars. Of course we have no outdoor furniture, and even if we did we couldn't see any stars last night because of cloud cover. But how nice it would have been to spend some time outdoors on such a calm, albeit humid, summer night.
There really isn't any point to this post, other than to say I guess it's time to try some camping and scratch
No. 3 off of my Bucket List
.
It's also time to buy a gas-powered generator. ;-)